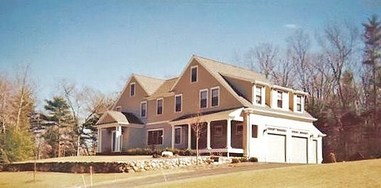 Education and Awards:
-Graduated from The University of Cambridge
-Graduated from L'Université Paris-Sorbonne
-NVAR's Multi-Million Dollar Agent six years in a row and counting
-Multi-Million Dollar Sales Club Member
Gloria comes from a very successful background in both her academic years and her previous career. Gloria Attended The University of Cambridge in the United Kingdom. After graduating from Cambridge she decided to travel to Paris, France to continue her studies at L'Université Paris-Sorbonne. After graduating from La Sorbonne she returned back to Colombia where she planned to stay for a few months before taking off to New York City to work for a bank. While she was in Bogota, Colombia she met her beloved husband Ricardo Rojas. They got married and she decided to stay in Bogota, Colombia because Ricardo worked for a very well respected company called Carbocol. Carbocol was the leading company back in the 1990's that led the research and excavation to explode the biggest land-mine of coal in Colombia. The successful couple had their first child who they named Santiago Rojas, soon after five years they decided to have their second child who they named Nathalia Rojas. After Gloria's decision to stay in Bogota, Colombia, she decided to join her parents successful retail business. They specialize in high end luxury women clothing. Her family also had a vast interest in real estate and therefore they invested their money over the years in a lot of real estate down in Colombia. Gloria's interest in Real Estate grew as she became more involved in the family's business and as her parents would purchase residential and commercial properties, she began to show more interest in the business. Gloria was fully aware of her parents transactions, because she is the oldest of four children.
When the Rojas family decided to make the move to the United States, both she and Ricardo saw the great opportunity to be part of the Real Estate market, as they both have always had a mentality of successful business people and a vast interest in Real Estate. As the years have gone by Gloria has created a great reputation in the Real Estate market in Washington D.C., Maryland and Virginia. Her good-will not only has brought her a successful career, but it has also made her one of the TOP PRODUCERS in all three- states. Fortunately having graduated from two of the most prestigious universities in the world, she has been able to apply all of her knowledge to provide an amazing and very professional service for her clients. Being able to speak English, Spanish and French she has had a very successful career in Real Estate and she is still going, seems like nothing is stopping her not even the ups or downs in the economy.
Additionally to all of her success she always finds time to give back to the community. She is involved with one of her husbands charities called
"Fundacion Colombo Americanos Unidos"
as well as contributing to her community and is very involved with her daughter's team sports.
Affiliations:
National Association of Realtors, Northern Virginia Association of Realtors, Maryland Association of Realtors, GCAAR, NVAR's Multi-Million Dollar Sales Club, Colombian American Chamber of Commerce Honorary Member, Fundacion Colombo Americados Unidos contributor
---